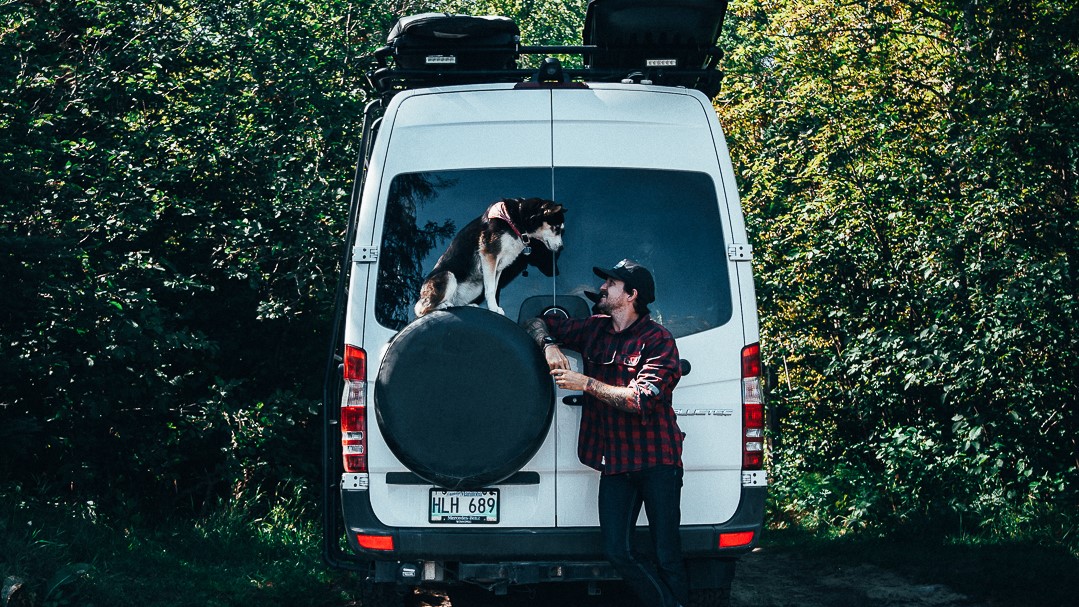 Who is Scott Adamson?
My name is Scott Adamson. I'm from Winnipeg in Manitoba, Canada and I travel around in my van with my rescue dog Ellie. If you check out my Instagram, she's basically the star of the page. Everyone follows me for pictures of her. It doesn't hurt my feelings though, I'm well aware she's much cuter than me.
How did you start?
I got started in the nomadic van life about six years ago now. The thing that got me into it was that I was looking for a way to spend more time doing the things I liked doing. I always felt like it was work, work, work and then I'd plan a vacation, which was never long enough, and then it was back to work. At that time, van life was just getting started. Ultimately my goal was to spend more time in the places that allowed me to do the things I loved doing. I wanted to spend more time in the mountains so I could snowboard and more time on the coast so I could surf.
Tell us about your rig.
Most of posts you'll see on my Instagram are of a white 170 Mercedes Sprinter van. I've just sold this and now I'm working on a shorter, 144 Sprinter van. Both vans are fully customised and modified to be 100% off-grid and completely self-sustained. They're unique compared to a regular Sprinter vans, but if you're familiar with the van life space they're very similar to what you've seen online.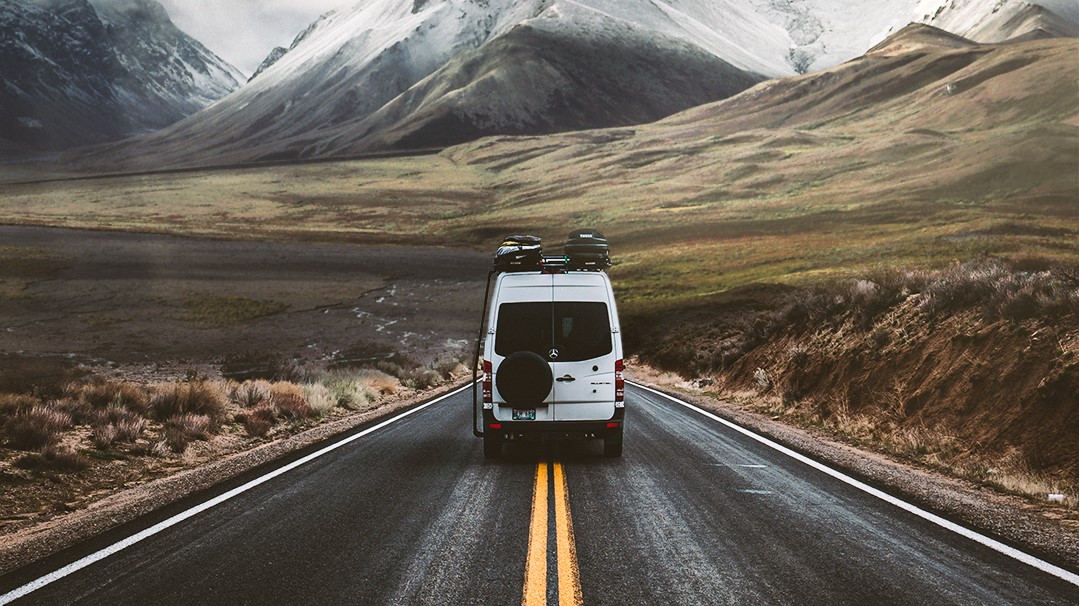 What has been your favorite trip so far?
My favourite trip so far has to be a mountain biking trip I took with a buddy. We went up through Northern Canada, Alaska and even made it to the Arctic Ocean. Because it was a mountain biking trip, all the places that we stopped were places it would normally be easy to drive right past. This made it one of the most memorable trips I've done in a while. It's a trip you could do over and over and over, and it wouldn't really get tired of.
What are the top 3 things you can't go on the road without?
My dog, I love having Ellie with me she's the ultimate co-pilot. The Aeropress for coffee. I find the it's the best single serve coffee maker and the easiest to clean up. I like having my surf boards and snowboards with me. Other than that, probably my camera. Having the van has forced me to slow down and take these photos that I normally wouldn't. I don't take them for Instagram but having an Instagram and a blog forces me to capture the trip in a different way.
What REDARC products do you have on-board and how they made travel easier for you?
In my first van I initially didn't have any REDARC products on board. I came across REDARC when I was looking for a better solution for a vehicle monitoring system. I found RedVision which checked all my boxes. I was looking at a few systems but the kicker was that I could control the whole system with RedVision whereas a lot of the other systems I looked at were purely display. At the time REDARC was the best and only solution I could find. Dealing with the REDARC team has also been amazing. Every question I had they answered right away. On top of the RedVision, I am using REDARC solar, The Manager30, and a 50A DC to DC charger. All round it makes the wiring of the vehicle way simpler, there's less thinking and less components you have to hook up.
What's next for Scott Adamson?
I've got to finish the van, with COVID it's been a slow process but it's getting close. So I want to get the van finished and get the videos up on the YouTube channel. Then I'd like to do another mountain biking trip in September, up in northern BC in Canada. I don't really have any plans after that. It's hard to make plans with the state of the world right now, with everything constantly changing. So I'll see how things go from there. I'm sure I'll fit something in in the summer but we'll see.
What would be your advice for someone wanting to get into the adventure lifestyle?
The short answer is just do it. If you think you're going to like it, you probably are so just do it. The next thing would be figure out what you want. Some people want more long term, so they have to figure out how to work on the road whereas some people are just doing an extended vacation. They take a year off, want to travel around the US, do as much as they can in that year and get out of it. What I tell people is that there's no right or wrong way to do it so if you want to get into the adventure lifestyle, just start. Who cares about your vehicle, your budget, your timeframe or what you want to do. Just do a few short trips, you're going to enjoy it, and every trip you're going to learn something new. The community in this space is amazing. It just keeps growing, day by day. That's been one of the coolest parts, all the different people that you meet. Some of the best friends that I have are people that I've met randomly on the road. They're located all over Canada and the US, it's a pretty great community.